During a difficult time in which the impact of a pandemic dramatically altered everyday life, one in which the sporting realm was certainly not immune either, a number of events compounded the woes felt by the residents of Nova Scotia. From a sporting perspective, Halifax, the province's Capital, and the nearby community of Truro, both slated to serve as host cities for the 2020 IIHF Women's World Championships, with hopes of powering Canada back to the top of the podium.
Adding to the feeling of Atlantic Pride was the fact that the Canadian contingent featured a pair of highly skilled and prodigious forwards from the province on its roster, both having participated at the 2018 Winter Games. Jillian Saulnier, and Blayre Turnbull, whose hockey odyssey includes skating south of the border for fabled Shattuck St. Mary's, and the dynastic Wisconsin Badgers, also scored the game-winning goal for the Calgary Inferno at the 2016 Clarkson Cup.
Hailing from Stellarton, Nova Scotia, located in Pictou County, Turnbull's brilliance on the frozen perimeter makes her part of a remarkable, and local, legacy of notable figures. Among them, James Peter Robertson awarded the Victoria Cross in 1917, and pugilist Les "Babe" Mason, fought for Canada's boxing team at the 1956 Melbourne Summer Games.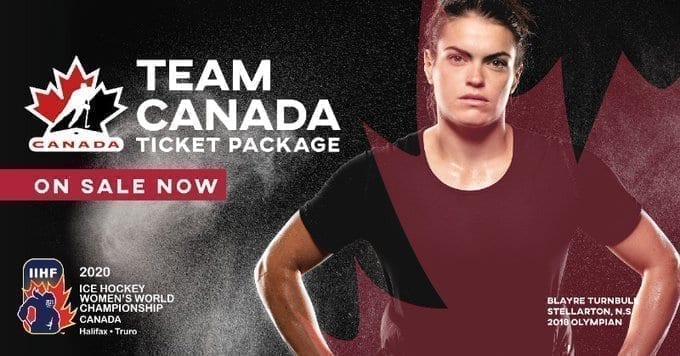 With the highly anticipated World Championship event shelved due to pandemic concerns, rescheduled for 2021, such an event would have affirmed the status of Saulnier and Turnbull as Atlantic Canadian sporting legends. As both were featured prominently in promotional material, possessing the persona of local heroes, their successes symbolized the rise of women's hockey in the province during the previous decade.
TRAGEDY IN NOVA SCOTIA
Instead, Turnbull remained an integral part of the provincial fabric, emerging as a hockey humanitarian. Looking to raise more than funds, but hope, for a province enduring an unprecedented string of highly unfortunate happenings.
‼️‼️Help me honour Nova Scotia and give back to the families involved in the tragic events that took place in April. Read below for more information! THANK YOU‼️‼️ pic.twitter.com/WIRWcrgVrY

— Blayre Turnbull (@katbt617) May 5, 2020
Among such a maelstrom of tragedies, two separate accidents included the loss of two other highly accomplished female role models from the province, both brave members of the military. Sub-Lieutenant Abbigail Cowbrough, raised in Cole Harbor, a community that has produced numerous female hockey heroes, including Alexis Crossley, Suzanne Fenerty and Autumn MacDougall, among others, was among six members of Canada's Armed Forces who lost their lives when a CM-148 Cyclone Helicopter crashed in the Mediterranean Sea between Italy and Greece.
Captain Jennifer Casey, also the public affairs officer for Canada's famed Snowbirds air team was part of a cross-country tour dubbed "Operation – Inspiration", meant to boost the morale of Canadians, saluting front-line workers and other essential workers. With the tour having reached its conclusion, Casey experienced a malfunction with her CT-114 Tutor Jet, suffering a tragic fate near Kamloops, British Columbia.
Compounding the hurt felt by Nova Scotians, another unnecessary tragedy took place. Starting in the Colchester County community of Portapique, the dates of April 18 and 19 would sent shockwaves throughout the province. An appalling act of violence resulting in 22 victims became international news, affecting Canadians from coast to coast.
"HOPE FOR HOME" CAMPAIGN
In response, Turnbull found a commendable initiative in hopes of helping the healing process for a shattered province. Having introduced the "Hope for Home" Helmet Sticker campaign, geared towards raising funds for the immediate families between May 5 and 12, 2020, with a focus on the children of the victims. Accepting a minimum donation of two dollars for the stickers, the highest donation received two tickets for the 2021 IIHF Women's Worlds. Additionally, a donation of $100 results in eligibility for the chance to win hockey memorabilia.
The first two days resulted in a highly remarkable show of support. Raising over $11,500, exceeding expectations, Turnbull was most grateful for the outpouring of support. With many crowd-funding efforts also taking place throughout the province, along with the Canadian Red Cross participating, Hope for Home represents an exceptional display of compassion, rebuilding a grief-stricken community.
Some good news during a terrible time at home- with your help, we have raised over $11,500 in just TWO AND A HALF DAYS to give back to these children! The fundraiser will be open until Tuesday, May 12th. Thanks for the continued support.
💙💛 pic.twitter.com/PdRiG908fR

— Blayre Turnbull (@katbt617) May 8, 2020
"I was blown away by the support I received while doing the fundraiser. I was hoping to raise around $5000, but I quickly exceeded that dollar amount thanks to all the very generous people who were on board with supporting this cause. It is something I am very grateful for."
Featuring a tartan pattern of blue, yellow, green and white, a silhouette of Nova Scotia is also part of the motif, with a red heart placed over the area where the tragedy took place, which sadly spanned five communities. As the Hope for Home Helmet Sticker is highly distinctive, it is poised to be an important sight at rinks throughout the province in the season to come.
Certainly, the fact that Turnbull is among her home province's sporting greats, to give back embodies the feeling of teamwork that has been highly prevalent in the raison d'etre of Hope for Home. With a remarkable amount of heartfelt support on social media, finding that the cause means so much to others, best demonstrated from sharing posts to raise awareness about the cause, to donating themselves, it holds a treasured place in Turnbull's heart.
"It means a lot to me. More than I can say, really. Anyone who knows me knows how proud I am to be from a small town in Nova Scotia, so when this tragedy happened, it really hit close to home in more ways than one. The way that my teammates and friends picked up on that and wanted to support me by sharing the cause on their social media platforms, donating, and offering their words of support is something that I will never forget. I am so lucky to be surrounded by people with such big hearts."
Considering that one of the great aspects of women's ice hockey is the feeling of teamwork from giving back, a highly notable, and heart-warming example, involves the fact that the helmets of many players, in junior, collegiate and professional, are adorned with the Do It for Daron (DIFD) purple heart logo. Certainly, it would be a heartfelt gesture if all competitors at the 2021 Worlds could wear the sticker for one game.
INSPIRING CANADIANS
Undeniably, Turnbull's compassion extends beyond her own initiative. Also raising awareness about Frontline Fund, supporting more than 150 hospital foundations throughout Canada, Turnbull's efforts as a hockey humanitarian also involved the opportunity to tap into her competitive roots.
On May 1, Turnbull was among four Hockey Canada greats, including fellow Nova Scotian Saulnier, Erin Ambrose, and Cassie Campbell-Pascall, a two-time Winter Games gold medalist and former captain for the national team, that were part of a movement encouraging Canadians to either bike, walk or run, dressed in red, for #novascotiastrong.
Part of the #JoinTheMovement initiative, spearheaded by Campbell-Pascall, her efforts were prevalent throughout May. Starting with #novascotiastrong, the remainder of the month saw other events, designed to make Canadians come together, encouraging participants to post photos with the hashtag #JoinTheMovement.
What a special family to be part of. Can't thank @CassieCampbell and @HockeyCanada enough for their love and support. Together we are all #NovaScotiaStrong https://t.co/1MrWYmtLG3

— Blayre Turnbull (@katbt617) May 2, 2020
As the feeling of momentum saw numerous other Hockey Canada competitors participate in May, including a special Mother's Day event, featuring Meghan Mikkeslon and Melodie Daoust, collaboration from other notable Canadian athletes, male and female, plus media personalities, emphasized the feeling of teamwork and unity, while bridging generations of Hockey Canada greatness.
Reflecting on the opportunity to be part of #novascotiastrong, a highlight from a highly meaningful month for Turnbull, paying homage to her hockey roots while working towards bringing betterment to a group of mourning families looking to mend, the result was a sense of perspective and compassion. Destined to be a defining time in Turnbull's brilliant career, her standing as a hero extends beyond the game itself, a beacon representing the potential for greater days ahead,
"Cassie Campbell-Pascall gets all the credit for organizing this event. She wanted to do something to support those in Nova Scotia who were affected by the tragedy and she certainly did a great job of uniting people across the country. Again, the way that so many people came together to show their support was incredible and I cannot thank them enough."
"All quotes obtained first hand unless otherwise indicated"
Related Articles