Long celebrated as an historian, her groundbreaking website establishing an essential foundation, Andria Hunter proved equally accomplished gracing the ice at historic Varsity Arena. When the game experienced a modern resurgence in 1990, courtesy of the IIHF Women's Worlds, Hunter brought sensational star power to the University of Toronto Varsity Blues.
Belonging to the program's 60-goal club, Hunter, raised in Peterborough, Ontario, gained a place in their local Sports Hall of Fame in 2007. Having dreamt of playing for the university while growing up, the highly talented forward emerged as a key contributor during a dynastic time. Adding to this experience involved a unique tinge of coincidence as Dave McMaster, Canada's head coach at the historic 1990 event, served in the same capacity for Hunter's first two seasons with the program. Running parallel to five OWIAA championships (1991, 92, 94, 95, 96), Hunter earned five First Team All-Star nods.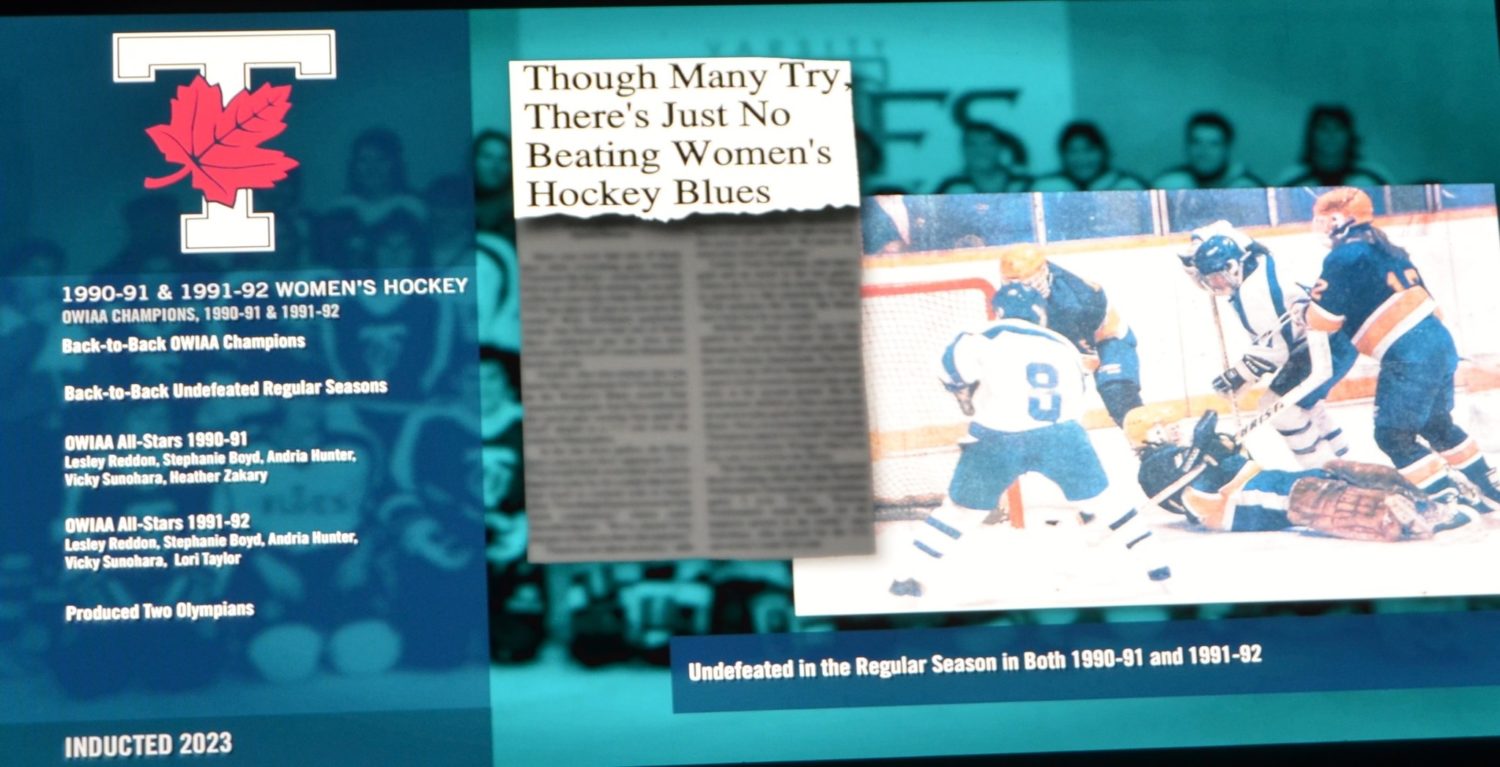 Adding a pair of Vi Keenan Sportsmanship Awards, the haul of accolades and honors went beyond the frozen perimeter. Earning a Master's of Science in 1996, an astounding four seasons resulted in the cerebral forward bestowed the prestige of the T-Holder Academic Excellence Award.
One of the elite Canadian stars in NCAA hockey during the 1980s, garbed in the jersey of the University of New Hampshire, later adding to her legacy as a pioneer, starring in the original NWHL with the Mississauga Chiefs, the Varsity Blues represented the happiest time of her career. With the program recently experiencing a competitive renaissance, back in familiar territory as a contender for the U Sports national championship, an opportunity to honour their heritage took exciting shape in 2023.
Among three iconic women to have graced the ice in Varsity Blues paraphernalia, Hunter joined Helen Carefoot, a three-sport star from the 1940s, and goaltender Lesley Reddon among the newest members of the university's Class of 2023 Athletics Hall of Fame. Worth noting, Hunter and Reddon were teammates on Canada's contingent that captured the gold at the 1994 IIHF Women's Worlds.
Fittingly, the revelation of a place in the Hall occurred through communication with another former teammate. As two of the squads that Hunter starred for, the 1990-91 and 1991-92 editions of Varsity Blues women's ice hockey, were gaining induction in the Teams Category, it set a celebratory tone of jubilation.
"I was extremely excited! It had been more than 30 years since I started my degree at U of T. When I got the call from one of my former teammates (Mary Beth Challoner) who now works at U of T, being inducted was the last thing that I thought she might be calling me about. What a pleasant surprise!"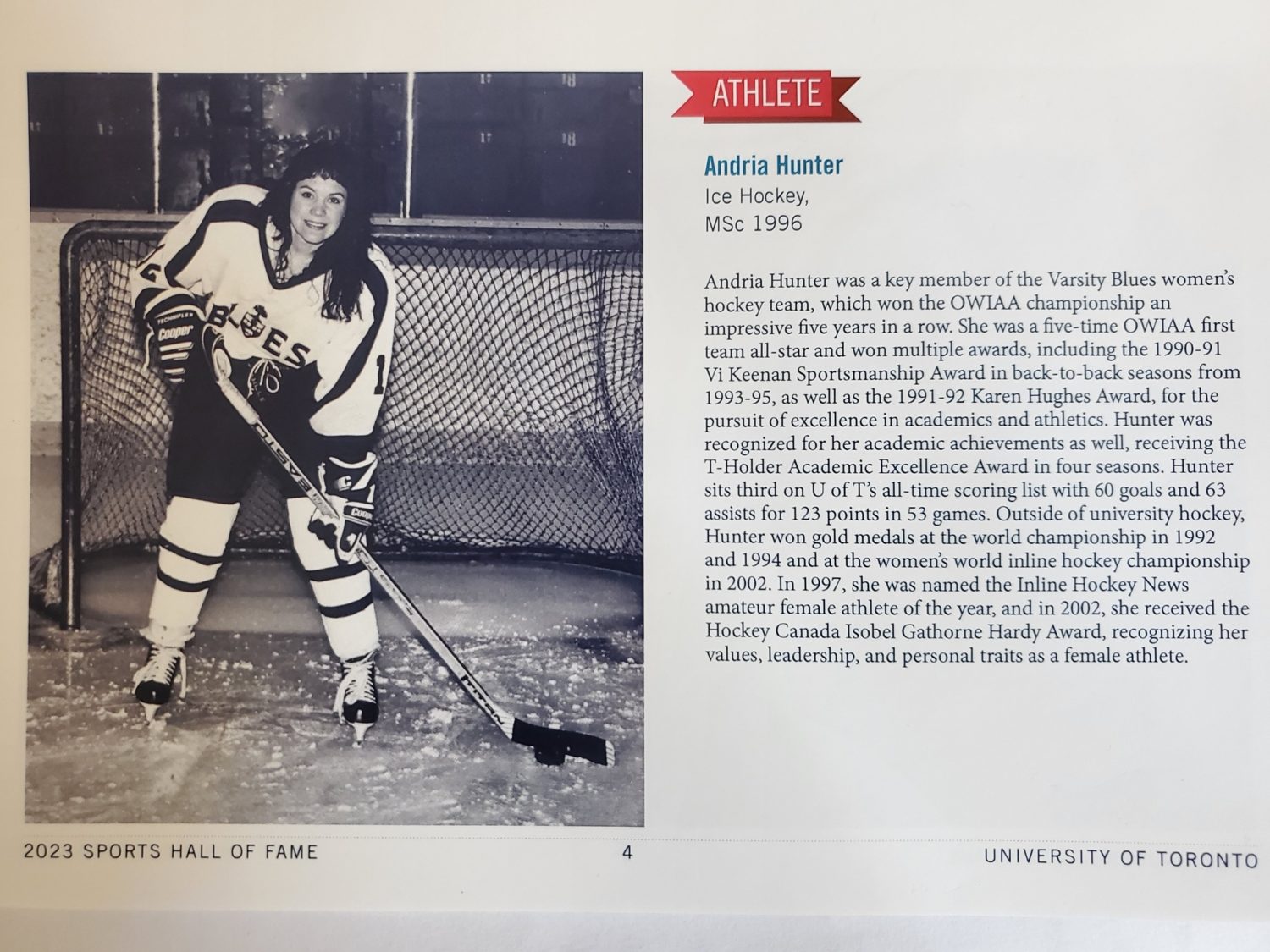 As the past and present intersected at the induction ceremony, held on on May 25, 2023, providing plenty of emotion, the unique novelty of the evening is that Hunter was inducted twice, also honoured as a member of the women's teams celebrated. So many of Hunter's former teammates read like a Who's Who of women's ice hockey. From the likes of Stephanie Boyd, Lori Dupuis and Nathalie Rivard, to Laura Schuler and current Varsity Blues head coach, Vicky Sunohara, the list of names shared a place with Hunter as multiple OWIAA All-Stars.
While Hunter was among several of the aforementioned that wore the Maple Leaf in IIHF competition, the induction ceremony also recognized her efforts in another facet of the game. Having represented Canada in a golden effort at the 2002 Women's Inline Hockey World Championship, the same year that she won the prized Isobel Gathorne-Hardy Award, it added another layer to the legacy of players from this era. Also burnishing that legacy was Diana Brown, a teammate of Hunter on both teams and a former Varsity Blues team captain. Having captured a pair of ISBHF World Championships as a member of Canada's national ball hockey team, Brown also led the Toronto Shamrocks as head coach, winning a CBHA National Championship in 2015.
Reunited with numerous players from the iconic and undefeated 90-91 and 91-92 squads, the familiarity rekindled more than the glories of an exciting time. From the restoration of treasured friendships to the promise of future engagements, their collective presence invigorated the sense of collaboration and unity, which were the cornerstone of such successful and iconic seasons.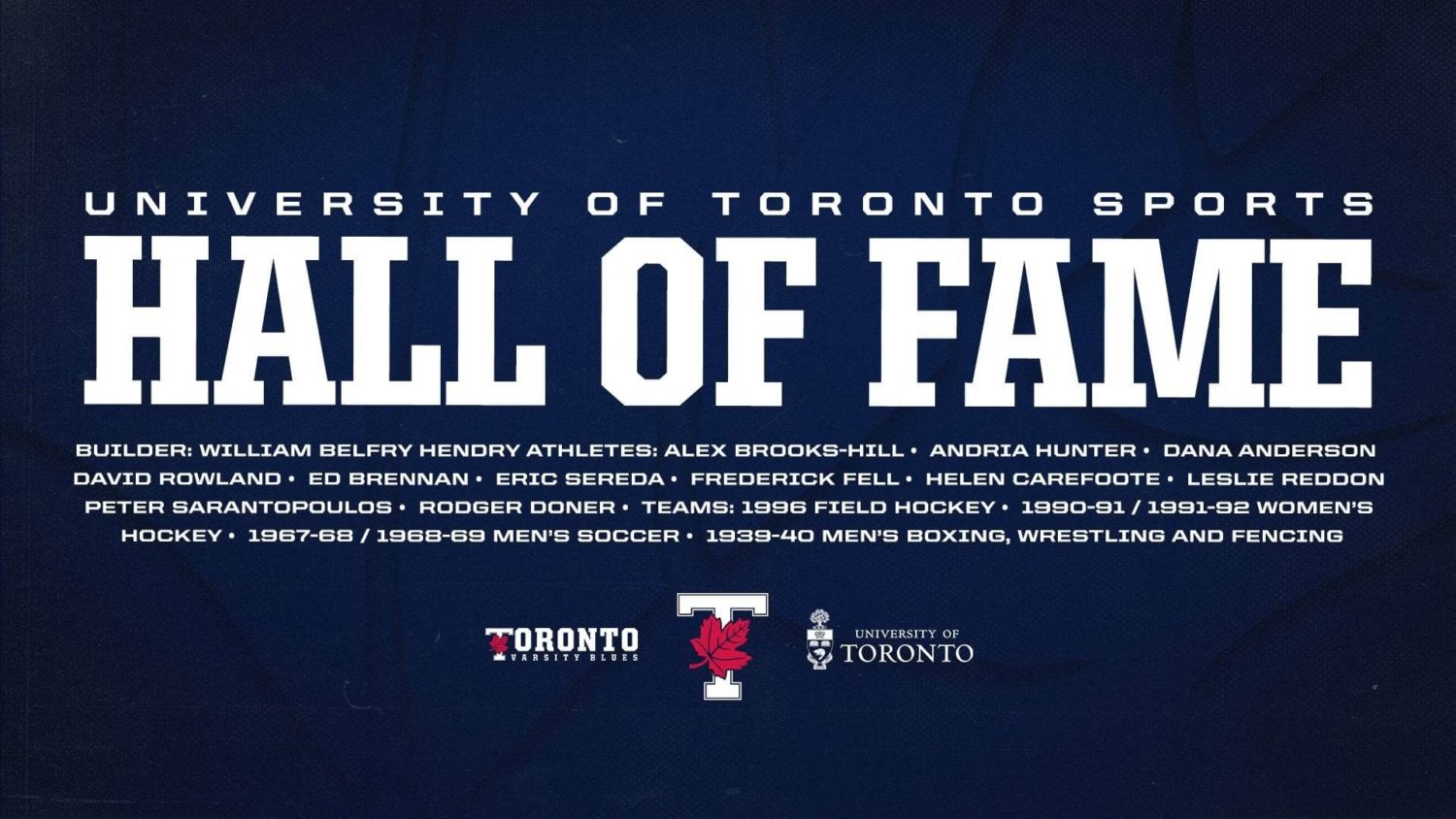 "Having many of my former teammates at the event is what made it so special for me. I think the event would have felt much different if I had been inducted at a time when two of my former teams were not being inducted.
It was such a trip down memory lane to see my teammates again after so many years! We had fun getting caught up at the event and we also went out afterwards so we could reminisce a little more.
We picked up right where we left off, as if time had stood still for the last 30-plus years. Now that we have reconnected, we plan to keep in touch in the future and, in fact, are going to a Toronto Blue Jays game together later this summer."
Adding an incomparable value to the majesty of such a special occasion involved another exceptional group that also encompass a feeling of team. Tugging at the heartstrings, the loving presence of family in attendance, headlined by Hunter's mother, added to a sense of achievement. Additionally, Hunter's Aunt Marg held a strong influence in her career, donating her time as a team manager, managing an incredible 75 games per season.
Joined by her two sisters, along with her husband and three children, all took a place of prominence in Hunter's acceptance speech. As the Varsity Blues always held the aura of a second family, Hunter enjoyed the best of both worlds on this magical night.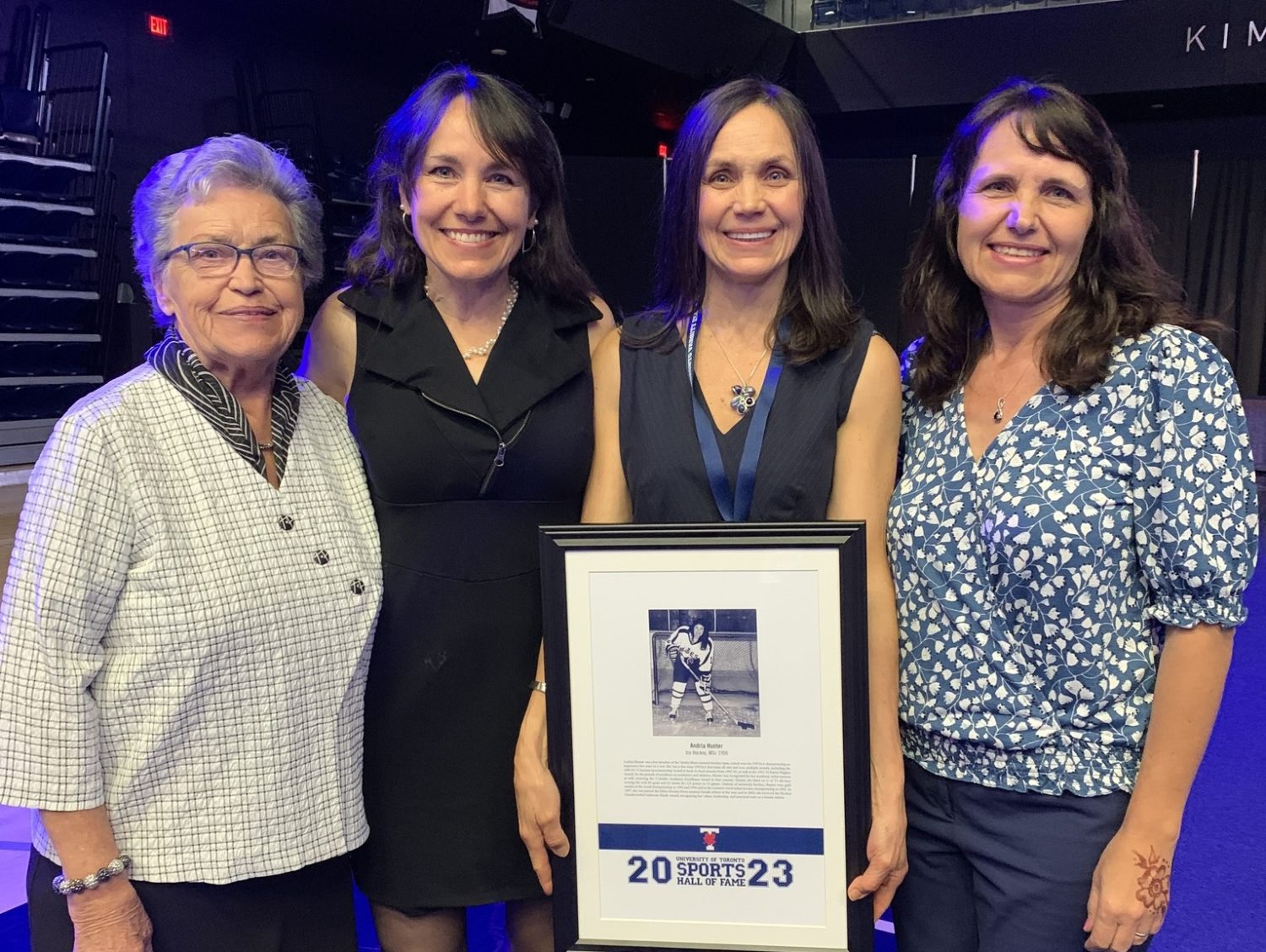 "I must say that it was also very special that my Mom, my sisters, my husband and our three kids were able to be at the event. My kids (who are all teenagers now) were at a good age to enjoy and appreciate the event. I was very happy that my Mom who resides near Peterborough was able to make it, and I am sure my Dad (who passed away a year ago) would have loved to be there too."
Reflecting on an exceptional career, there were two chapters for Hunter. Following two brilliant seasons, representing the denouement of the Dave McMaster era, one season saw Hunter cross the Atlantic to play in Switzerland. Suiting up for DHC Langenthal, winning the scoring title with 87 points, her return to the university in autumn 1993, tense times saw the athletic program suffer from controversial decisions. With women's ice hockey and varsity football among the programs to be discontinued, a future filled with uncertainty plagued numerous student-athletes.
Led by highly empowering hockey icon Justine Blainey-Broker, a Save The Team night not only resuscitated the program, an important dignity added long overdue prestige. Along with a name change from Lady Blues to Varsity Blues, emphasizing sporting equality, the program was reclassified as a high-performance sport, gaining two extra practices per week, plus the length of game times increased.
While such efforts allowed a very grateful Hunter three more seasons of Varsity Blues hockey, this new chapter was defined by playing for new head coach Karen Hughes, returning to the program took on another meaning. While the dominance of the women's ice hockey teams deserved to be part of the city's sporting conversation, the beauty of belonging to such a special group contributed towards a feeling of community, the hallmark of her time in Varsity Blues colours.
"The most enjoyable part of playing for the Varsity Blues was the friendships I made and the fun times that I had with my teammates. We enjoyed the challenge of working together to be the best that we could be. We set team goals and were a very tight-knit unit who enjoyed being together, which I do believe ultimately led to our success.
I always felt that it was a privilege to represent the University of Toronto because of its rich history of women's hockey. U of T is a large institution in a very large city, but because we were part of a team working together towards a common goal, we felt like we were a small family.
Another thing worth mentioning about playing for the Varsity Blues is the special feeling that I would get when I played at Varsity Arena, or even just stepped inside the building.
The arena has not been modified much since it was first built way back in 1926. I am not sure if it is the history of this old building or the great memories of playing there, but even to this day when I participate in Alumni events at Varsity Arena, I get a very special feeling when I step on that ice!"
–
"All quotes obtained first hand unless otherwise indicated"
In this article:
#All-Star
,
#Athlete
,
#Awards
,
#AwardWinners
,
#CBHA
,
#Championships
,
#Champs
,
#HallOfFame
,
#HockeyFamily
,
#IIHF
,
#ISBHF
,
#NCAA
,
#StudentAthlete
,
#UniversityHockey
,
#USports
,
#WomenInSport
,
#Womenshockey
,
#WomensWorlds
,
grow the game
,
Hockey
Related Articles