With a significant list of achievements defining an exemplary career, Kendall Hanley recently added another proud milestone. Gaining the privilege of serving on the officiating staff for women's ice hockey at the Beijing Winter Olympic Games, Hanley was one of five Americans named.
Prior to Beijing, Hanley already enjoyed numerous officiating milestones. From appearing in the American Hockey League (AHL) to the prestigious honor of the USA Hockey Ben Allison Award, celebrating an official in their Officiating Development Program, it signifies the validation of an exceptional career that has spanned over a decade. Additionally, her expanding legacy even included the NHL.
Joining Kelly Cooke, Katie Guay and Kristen Welsh, their collective presence brought an exciting new dimension to 2020 NHL All-Star Weekend in St. Louis, comprising an all-female officiating crew for the Elite Women's 3-on-3 showcase. Among this celebrated group, Guay possessed Olympic experience, having worked at PyeongChang 2018. Fast forward four years, Hanley and Cooke both made their debut in Beijing. As a side note, Welsh became the first female official to work in the Ontario Hockey League, part of a ground-breaking season that has seen her enjoy a few appearances in the AHL.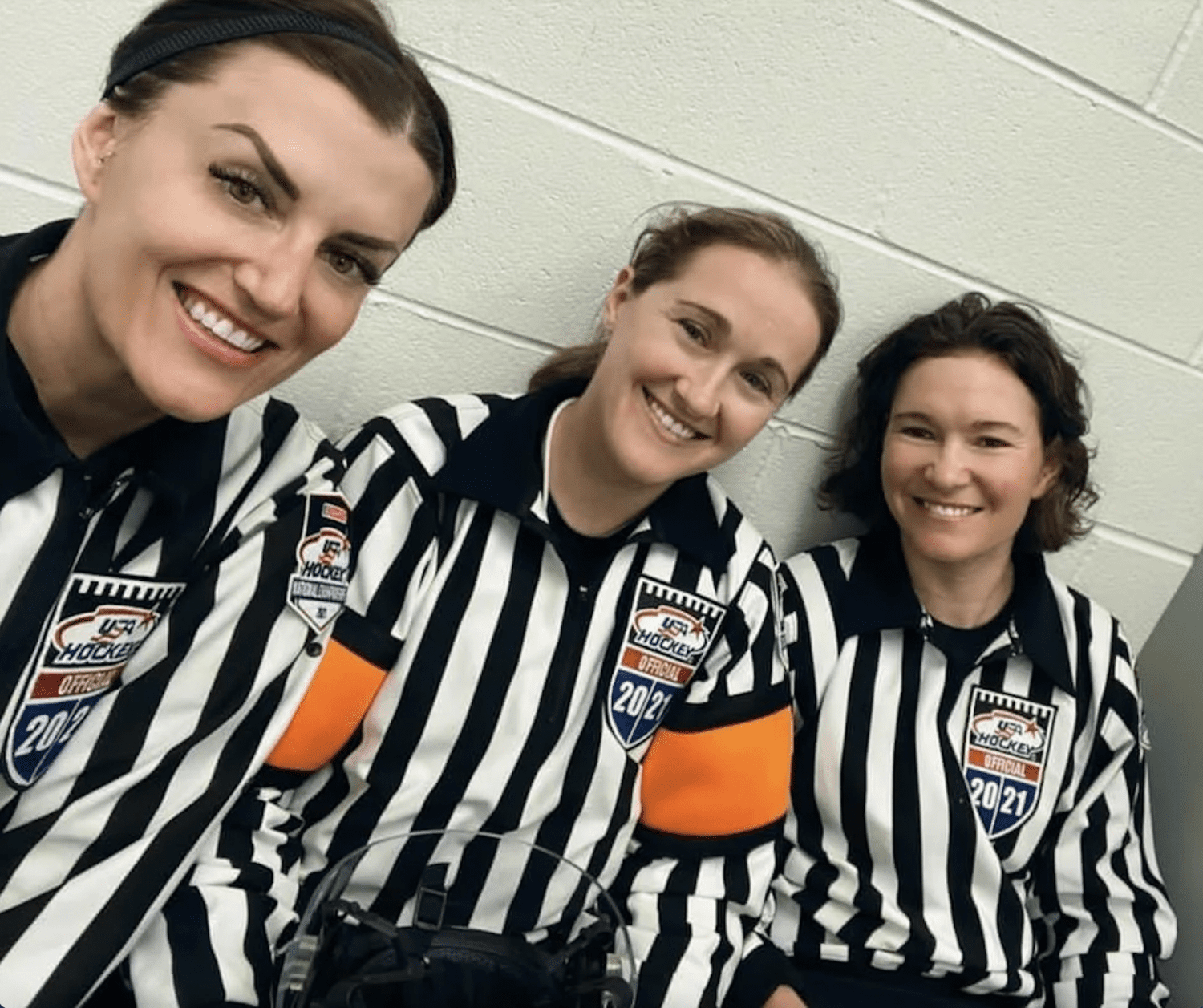 Grateful of the revelation that Hanley belonged to the crew of 24 officials for Beijing, it heralded her arrival as one of the world's finest at her position. Although there were feelings of jubilation and attainment, the reaction also brought with it a feeling of caution.
Understandably, the sense of worry caused by pandemic concerns dampened any celebration. As Hanley reveals, it was not until the opening face-off that any worries evaporated, quickly replaced by an enthusiastic excitement of working at the most prestigious women's ice hockey tournament in the world.
"I was so thankful and honored to be selected to the team. Great news to hear after so many years of work, and the field was so talented. This year was different for all of us, as the Omicron variant was spreading so fast at the time. The high from receiving this amazing news was immediately followed by the stress and pressure to stay COVID-free and healthy so we could make it to the Games. It was hard to enjoy anything until we arrived in China and got that first game under our belts."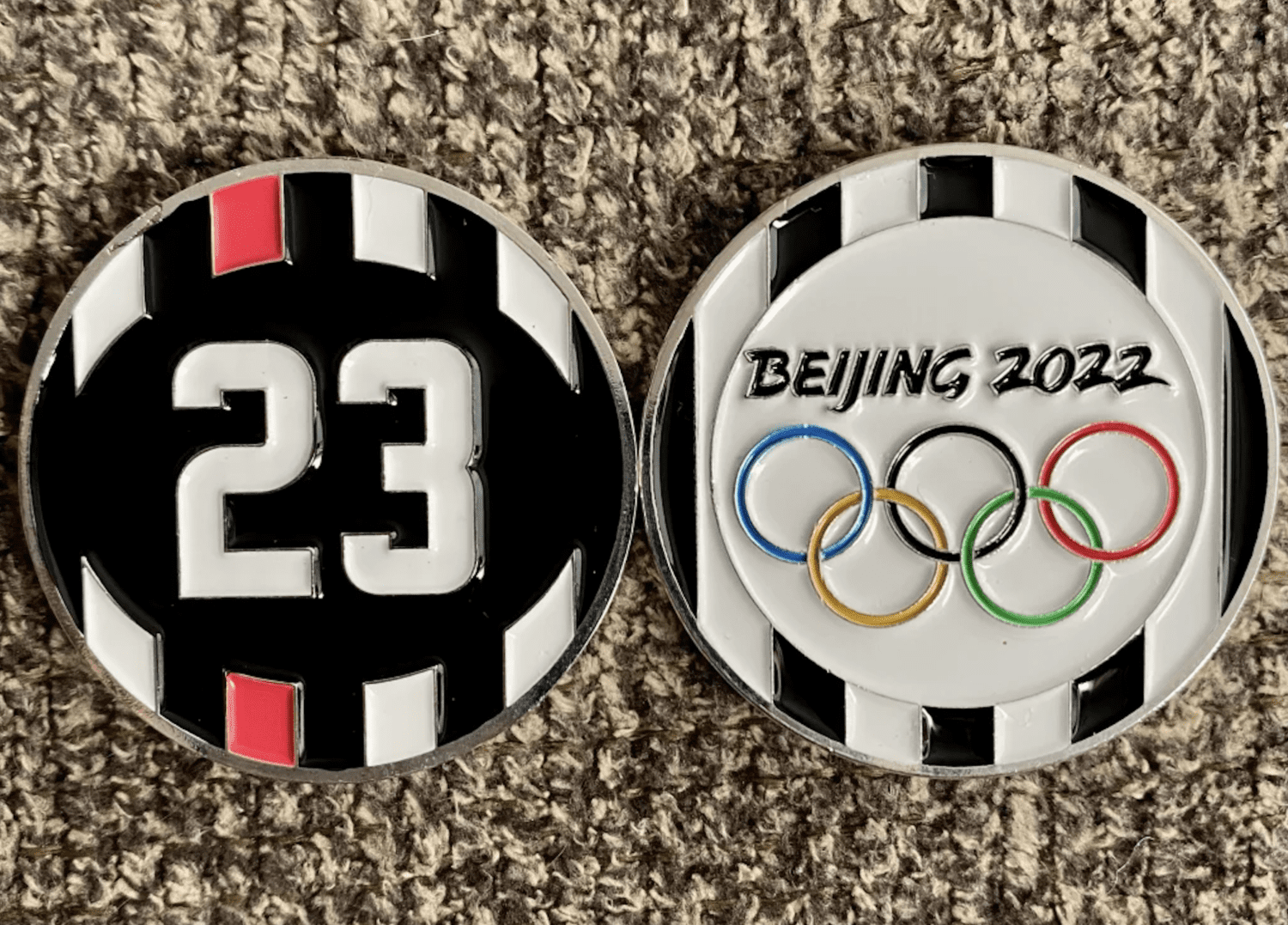 Making her Olympic debut on February 3, as Japan bested Sweden in a 3-1 final, Hanley enjoyed a shared milestone. Of note, all four officials on-hand were appearing in their first Olympic Games. Working as a lineswoman alongside Diana Mokhova, the referees were Canadians Cianna Lieffers and Elizabeth Mantha. As a side note, Hanley and Mantha both played university hockey. At the NCAA level, Hanley wore the colors of the Elmira Soaring Eagles, followed by Oswego State, while Mantha skated in U SPORTS for the University of Montréal Carabins, winning the 2013 Golden Path national championship trophy.
The following day, Hanley worked with referees Lieffers and Mantha once again. Part of the officiating crew as ROC's Polina Bolgareva recorded a hat trick in a convincing 5-2 defeat of Switzerland, a familiar face joined Hanley as lineswoman. Having both worked in Lake Placid, site of the 1980 Winter Games, during the 2021 NWHL (now PHF) regular season, Jacqueline Spresser shared lineswoman duties with Hanley.
Reflecting on the enjoyment of sharing the Olympic experience with her, the feeling of camaraderie that exists between teammates is certainly applicable to the officials. Perhaps more profoundly for Hanley and Spresser, the event saw them honor the life of Jamie Huntley. Having tragically lost her life in June 2021, Huntley also officiated in the IIHF and NWHL.
Originally named to the crew for the 2021 IIHF Women's Worlds, Huntley had aspirations of working the 2022 Olympic Games. Although fate intervened, Huntley's memory held a special place in the hearts of Hanley and Spresser. From the outset, both requested the use of the numbers 69 and 30. Huntley, who was a detective with the San Diego Police Department had a badge number of 6930. Commendably, the officials' locker room featured an empty cubby with a nameplate in Huntley's honor mounted.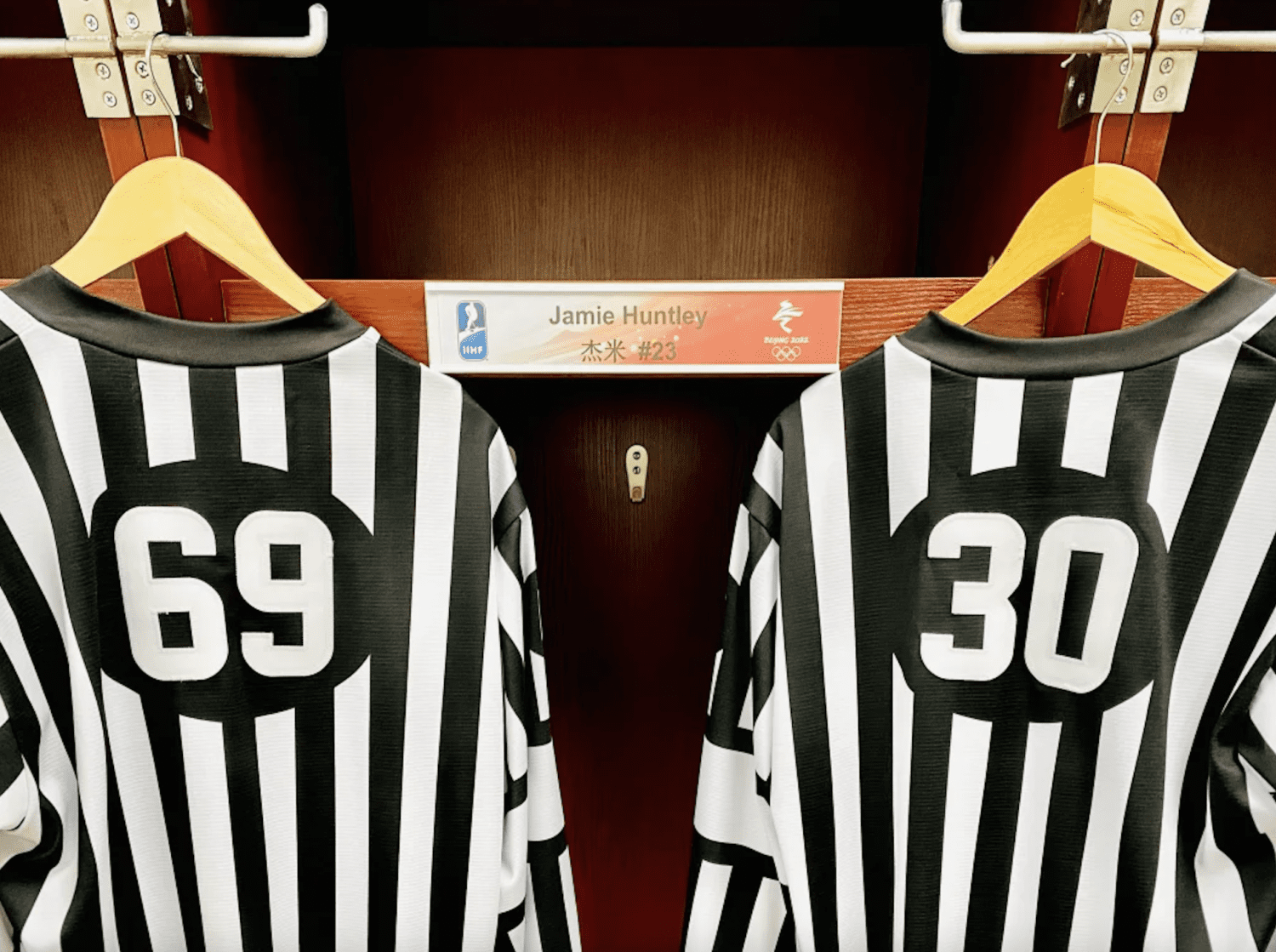 "Getting to achieve a lifelong dream with one of your best friends is a tough feeling to beat.  You heard the athletes talk about it so much in their interviews, getting to share this incredible experience with teammates that turned into lifelong friends that turned into family…it is like that…really special."
During the elimination round, Hanley worked with Mantha once again. Along with Finland's Anniina Nurmi and Sweden's Anna Hammar, their February 11 assignment involved the US defeating Czechia by a 4-1 mark in the quarterfinals. As a side note, Spresser served as a lineswoman in Canada's convincing 10-3 semifinal win over Switzerland.
Among all of Hanley's assignments in Beijing, the most prominent involved wearing the stripes for the gold medal game. Belonging to a crew including fellow American Kelly Cooke, plus Swiss referee Anna Wiegand, and lineswoman Hammar, the opportunity to grace the ice for the biggest game in women's ice hockey signified a monumental milestone.
Prior to Beijing, Hanley served on the officiating crew for the bronze medal game at the 2021 IIHF Women's World Championships, won by Finland. Building on that milestone with the gold medal game marked an exciting new pinnacle for Hanley. Akin to an umpire working the World Series, or an official at the Super Bowl, Hanley's esteemed assignment,
"It is hard to put that feeling into words. There is pride and a sense of accomplishment. As well as gratitude to everyone involved in the decision, as I know it was not an easy one given the depth of our team. I am truthfully still trying to wrap my head around…but I know I will be thankful for it forever."
Reflecting on the experience of donning the officials sweater in Beijing, Hanley's favorite facet went beyond athletic achievement or the city's captivating sites. A magical time defined by exhilaration and festivity for all involved also took on a personal context. For a proud Hanley, the enjoyment involved admirably looking at the fundamentals. Finding an appreciation in her colleagues, knowing that the arrival was one shared with so many, the feeling of a second family motivated and inspired, providing a shared triumph,
"Our team. Many of us have been on this officiating journey for a long-time and have worked together at various times over the years.
We are a tight knit group – family – and to be able to reach our dream goal, and achieve it together, is something I will always cherish. No matter the challenges put in our path we always come together and make the experience our own and we did so in Beijing."
"All quotes obtained first hand unless otherwise indicated"
Related Articles