I'm sure most of you have heard about the recent events that occurred at a recent high school hockey game in Pennsylvania. A young women goalie playing on a men's team being verbally sexually harassed by a large group of boys/men in the stands, chanting very inappropriate things.
"This game is for us all" —  is what is printed below a new statue on temporary display outside of the Hockey Hall of Fame. Women need representation, not just to show young girls there is a place for them, but to show young boys/men that women belong too. As a hockey mom and hockey player I try and spend as much time showing up for my daughters team as I do for my son's team. I go on the bench, I help out on the ice. I don't think the boys love being told by a women what a toe drag looks like, or that one timers are hard from certain angles, but they need to hear from a women as much as they need to hear it from a man. Some girls have been hearing it from men their whole lives!
Most who know me, know that I am a pretty strong advocate for women in sport, especially hockey. I have a daughter who plays competitive hockey for a girls hockey association, but I also have a son who plays for boys house league. So much emphasis is getting more women into girls hockey, but we are lacking the same energy of getting women involved into boys hockey. Both come with different challenges. There is certainly still a strong "boys club mentality" in most hockey associations, but this is thankfully changing. We are starting to see more women taking leadership roles in girls hockey. I want to see that in boys hockey too.
Girls and women face more obstacles in this sport, but that is to be expected considering we are newer to the sport. We don't want to be "let" into the game because we are women, we want to be part of the game because we've earned it as much as the men have earned it. We get on the ice and play, we take shots in the driveway, we take coaching courses, watch hundreds of hours practices and games. We want out from behind the manager role or the trainer role. We want to get our gloves on, sticks in hands and skates on our feet. We want to be part of the locker room discussions, the practice planning but we need guys to see us, to include us, to invite us into the conversations. I apologize, I shouldn't speak for all women — we all want different things in our hockey lives, so I will change my statement.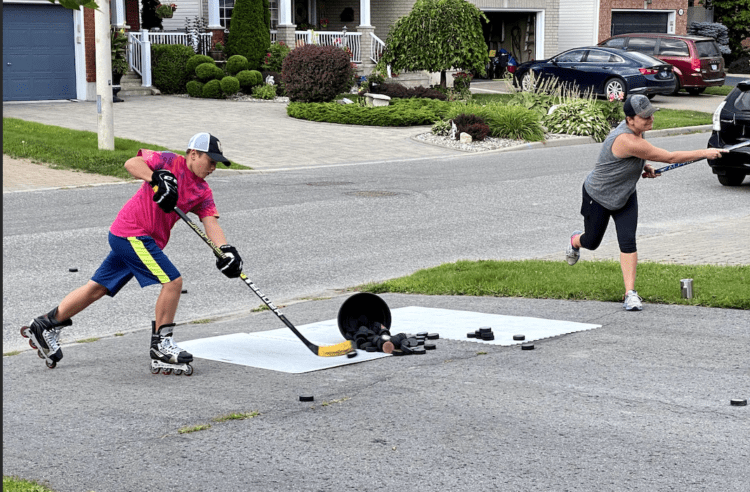 My son and I practicing our shots
I want to be part of practice planning, I want to be part of the bench conversations, I want to learn what you know so I can pass the knowledge on, I want to be included as an on ice helper WITHOUT having to prove my hockey resume to you (if I volunteer it means I can do the job).
Had those boys/men in the stands in Pennsylvania been raised with the understanding that women belong as much as men this wouldn't have happened (hopefully). This is the culture though isn't it? The culture is blamed and not the individual. I've seen comments on social media about girls needing tough skin to play. Why does the thickness of the skin matter? You think tough skin makes name calling easier to take? Does being upset by these comments mean you aren't as strong? Just because it's the culture does not make it okay. Having tougher skin, sticking to girls hockey — these are things that are being suggested to help prevent this, but these are behaviors the girls/women need to adjust, not the boys/men who did the chanting.
Ladies, we need to take risks out there, we need to keep speaking up, we need to continue to be role models for not only our daughters, but our sons and we need to continue to hold each other up. Men, you need to help us get there. Include us in your conversations, don't assume we don't know how to play but assume we do. Give us a fair shot.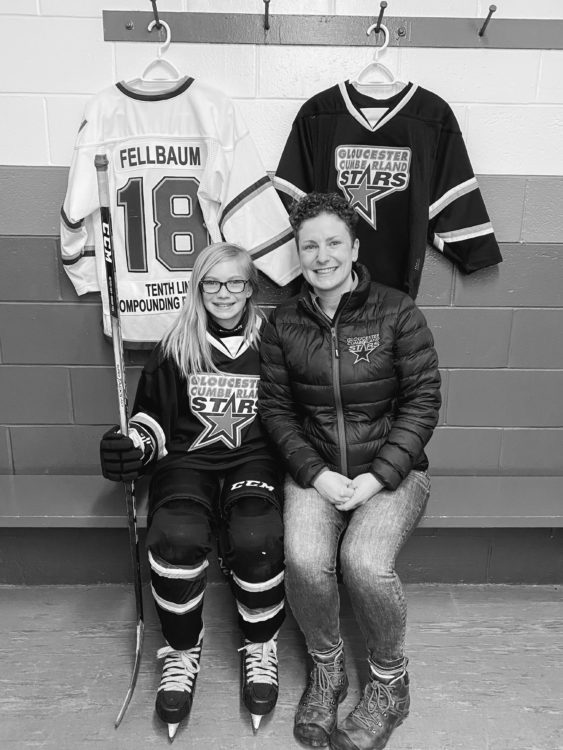 Related Articles