Fair warning to the New York Rangers: they will need to sidestep several shards of glass the next time they enter Madison Square Garden.
These shards are the remnants of the Professional Women's Hockey Players Association's latest stop on the 2021 Secret Dream Gap Tour. The tour, featuring teams from New Hampshire and Minnesota touched down at the Garden on February 28th.
"Take a moment to look up at the most iconic ceiling in all of sports and entertainment, because you're about to bust through it," tennis legend, Billie Jean King, stated in the game's opening remarks.
In the depths of the coronavirus pandemic, which has wreaked havoc on almost every industry, sports included, the PWHPA's Dream Gap tour is symbolic.
Much like the National Women's Soccer League's Challenge Cup tournament and the Women's National Basketball Association's shortened but still completed 2020 season, the PWHPA's decision to delay the 2021 Dream Gap Tour and the subsequent support they received in executing the event made a powerful statement about women's hockey and women's sports. Despite the challenges posed by the pandemic and the absence of revenue that would normally have been generated by ticket sales, the show went on because the appetite was there. Women's pro sports are and need to continue to be a priority.
On International Women's Day 2021, as we look optimistically towards a future where the pandemic is behind us, here are three reasons why the time is now to establish a professional women's hockey league in North America.
1. Key Supporters Sign On
Since the inception of the PWHPA, the organization has always maintained one key aspect: support from the right names. It wasn't long after the CWHL folded that all the biggest names in women's hockey banded together to start the PWHPA. There were no holdouts. Every big-name player signed on to support the establishment of a future pro league rather than opt to play in other leagues that already existed. It was a telling statement about what they felt needed to happen that they chose to sacrifice their careers in the name of future opportunities.
The Dream Gap tour has no shortage of branding. The key is, all the brands are recognizable and reputable. The tour itself is sponsored by Secret Deodorant. Team Minnesota is sponsored by Adidas and Team New Hampshire is sponsored by the Billie Jean King-founded Women's Sports Foundation. Bauer is the sponsor of Montreal's team, Scotiabank is sponsoring Calgary's team, and Sonnet Insurance is sponsoring Toronto's team. This is complemented by broadcast partnerships with the NHL Network, NBC Sports, CBC, and Sportsnet.
The biggest feather in the cap of the PWHPA is the support from the NHL. It is no secret (deodorant pun unintended) that a viable professional women's hockey league will require the support of the NHL in order to fully reach its potential. That's why a game held at MSG in partnership with the Rangers as well as other announced partnerships with the Maple Leafs and the Chicago Blackhawks shows that NHL clubs are recognizing that they have roles to play in the establishment of a pro women's league and they are stepping up to the plate.
The PWHPA's latest social media campaign, titled "#StickInTheGround" featured appearances by Connor McDavid, Auston Matthews, P.K Subban, and Billie Jean King herself. These are big names lending their voices and bringing clout to the movement. It's a key difference from past attempts at a pro league and gives the PWHPA a stronger foundation to build on.
2. Women Supporting Women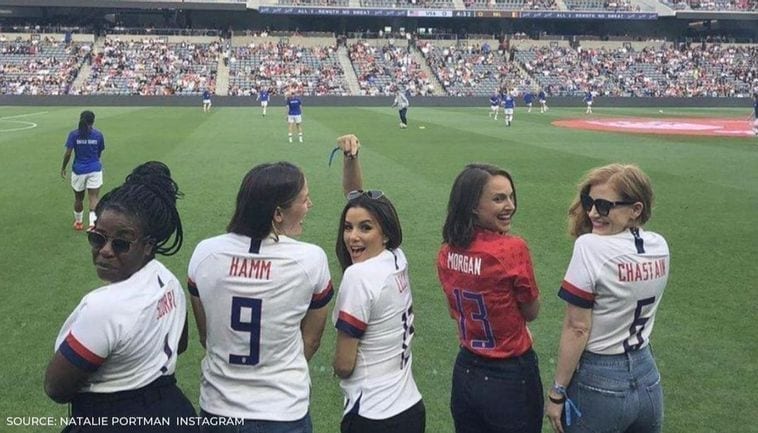 When Serena Williams took to the court against Naomi Osaka for their Australian Open semifinal match last month, it wasn't just historic because Serena was vying for her record-tying 24th Grand Slam title. It was historic because both women were co-investors of two NWSL franchises. In addition to Williams and Osaka, notable public figures such as Natalie Portman, Eva Longoria, Abby Wambach, Mia Hamm, and Jessica Chastain have signed on as co-investors of various franchises. In fact, only a few weeks ago, Jenna Bush Hager and Chelsea Clinton were announced as having bought ownership stakes in the Washington Spirit. That's how powerful the women's sports movement is – it's uniting Democrats and Republicans!
This movement will always require the support of men, largely because they are still the ones in key leadership roles in organizations that can support the movement and also because they have the knowledge and experience to help navigate the early days of these new leagues. However, the emergence of well-known and financially-successful women who are stepping forward and putting their money into the growth of women's sports brings further legitimacy to the movement, and it creates a network of women supporting women across different industries.
As the PWHPA continues to develop and the talent of the players within it continues to be put on public display, there will be opportunities to collaborate with high-profile women and to pitch to them a strong business case as to why they should throw their support behind a women's pro league. Women know better than anyone how many barriers they have had to encounter in order to "make it" in the world and are, therefore, more inclined to support ventures that may not yield immediate returns but that are working towards a greater good.
"Sometimes you invest in things that don't make money yet, but you want to make them better," WBNA star Diana Taurasi stated to ABC News.
Having a sustained network of women investing financially and with their intellectual capacity in professional women's hockey will lead to a product that is, eventually, self-sustaining, where men and women can work as equals, and where the final word doesn't belong only to male executives.
3. Increasing Viewership
The proof is in the numbers. The 2020 NWSL Challenge Cup tournament broke TV viewership records by 300% and drew average viewership numbers that were on par with English Premier League and Major League Baseball games that aired during the same time slots. [1] This was, in large part, due to broadcast deals that saw these events aired on mainstream sports channels across Canada and the US. Even as men's pro sports started to make their respective comebacks after pandemic shutdowns, the NWSL's viewership continued to thrive, with their most-watched match breaking the 1,000,000 views mark globally.
The Dream Gap Tour has secured broadcasting rights on the main channels of major sports networks rather than on subscription-based add-ons and apps. This is key because it captures a key demographic of people who know and use these networks for their sports fix on a daily basis. Airing the games on these mainstream channels and showing the highlights during other sporting events not only showcases the talent of the PWHPA, it also changes the narrative of what sports watchers are seeing on their screen. Making it the norm to show women's sports highlights and devoting consistent airtime to covering these sports will make it a more organic part of the consciousness of viewers.
The women's hockey final at the Pyeongchang 2018 Winter Olympics drew more viewership than all NHL Stanley Cup games other than the Cup finals and one additional game. All this is to point out the support is there and the PWHPA's securing of Dream Gap tour games in primetime slots on major networks is proof that even the networks believe in the product.
There is reason for excitement and optimism as the PWHPA and women's sports navigate the post-pandemic landscape. The desired outcome is uncontested. The "good old hockey game" cannot be "good" unless it is inclusive and representative of all who love it. With a viable pro women's league on the horizon, we'll soon be able to say with pride, how good the game really is.
Featured Image Credit: c/o The Athletic
Related Articles