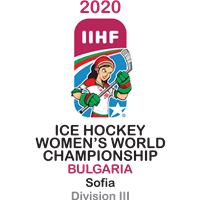 World Championship season is just around the corner, and while Canada, the United States, and other top women's hockey nations won't play for gold until the end of March, the first 2020 IIHF women's tournament kicks off next week.
Bulgaria's capital city of Sofia will play host to the 2020 IIHF Women's World Championship Division III tournament (previously called the Division II Group B Qualification tournament) from December 4 to 10. Six teams from countries in Europe, Africa and Asia will face off with the goal of earning promotion to the Division II Group B tournament for the 2021 season.
Here's what to watch for from all six teams.
Romania
Romania will be competing in the Division III tournament for the first time since the 2016 season, having come last in the 2019 Division II Group B tournament (which they hosted in the city of Brasov) with four losses and one overtime win.
"Let's say that us as a team are in a transformation phase, we are changing generations and it is a hard process," said head coach George Pogacean. "Our goal is to give younger, talented girls the opportunity to play at a World Championship, and of course our main goal is to win the division."
Twenty year old Ana Voicu, who spent the 2017-18 season in Canada with the Ontario Hockey Academy, led the team in scoring in the 2019 tournament with six goals and two assists (and also led her team in penalty minutes with 26 through five games).
"Ana Voicu is a very good hockey player and she has helped us very much, she has international experience," said Pogacean. "There are a lot of girls on the team that have the potential to be key players."
Amongst those players are assistant captain Alina Oprea, prospect David Sonia, and Timea Csiszer. Csiszer, along with Voicu, is one of the few players on the team who has played outside of Romania. She currently plays with Marilyn Budapest in the Austrian women's league, and previously spent five seasons in Slovakia's women's league with HC Spisska Nová Ves.
Belgium
Belgium played dominantly in the 2019 Division III tournament, winning games by scores of 8-1, 6-0 and 9-2. However, a 4-1 loss to eventual champion Ukraine resulted in them claiming silver instead of gold.
"For the past three years we have always grabbed silver and lost the gold. As a team, we have learned a lot from those three years," said head coach Sven van Buren. "Individually and also as a collaborative team we have only one goal in mind, and that is bringing the gold medal home."
Captain Valerie Jenaer led the 2019 tournament in goals with eight and in points with 13. Also lighting up the scoresheet was Femke Bosmans, who led the tournament with eight assists. Lotte de Guchtenaere was named the 2019 tournament's Top Forward.
"At previous World Championships our weakness was our scoring ability. With the younger players crashing the net this weakness became a strength, resulting in top scorers of the tournament," said player Eline Leyen.
"[Taking the gold medal home] will not be easy with a new team in our division, Lithuania, and Romania, a team that dropped from Division II Group B," said Leyen. "Lithuania is a team we know nothing about, so it's very hard to prepare for this game, and the game against Romania will hopefully be the game for the gold medal."
South Africa
After finishing third last season, South Africa is looking to work its way back towards Division II Group B, which the team last played in in 2013. The team had dominant wins over Hong Kong and Bulgaria in the 2019 tournament, but fell short in a 3-1 loss against Ukraine and struggled with a 9-2 loss to Belgium.
"Our long term objective is to grow in experience and develop into a Division II Group B team in a few years," said head coach Andre Marais. "In the short term, playing to our full potential is key. We know we have good offensive skills, but we have really challenged ourselves to further grow our passion for defending."
"Our leadership group is vastly experienced. This adds greatly to the calmness and direction of the group," continued Marais. "By empowering players to be solution oriented, even the most junior of players are comfortable making decisions and taking situations on, and the leadership group fosters this culture."
Donne van Doesburgh, who was named the Top Defenceman of the 2019 tournament, continues to be one of the team's premier two-way players. Forward Dalene Rhode, who has played with Italy's EV Bozen Eagles, was a notable offensive force last season with seven goals and 12 points. Goaltender Shaylene Swanepoel will also continue to bring her experience and mature sense of focus to the team.
"As a team we look to push the pace of the play and put teams out of their comfort zone as much and as often as possible. We rely on each individual in our group to play their part," said Marais. "Every player, no matter their age or experience, has a specific role within the team which means that each individual's contribution is key to our success."
Hong Kong
Since making its debut in 2014, Hong Kong has never made it out of this division of World Championship play, with its highest placed finishes being silver medals in the 2015 and 2016 tournaments. Last season the team came in fourth, notching a 7-6 overtime win over Bulgaria to stay out of last place.
Players to watch include Estelle Ip, who played several seasons of ACHA hockey, leading Northeastern University in assists (23) and points (28) in 2018-19 as the team's only non-American player. She currently plays with the Streatham Storm of England's Women's National Ice Hockey League.
Ip led Hong Kong in points at the 2019 World Championships with eight, followed by defender Adrienne May Li, who had seven. Li served as the team's captain in the 2013-14, 2015-16 and 2016-17 seasons and was the oldest player on the team last tournament at the age of 44.
Bulgaria
Host Bulgaria will be looking to improve upon its last place finish at the 2019 tournament. The team was closest in skill level to Hong Kong, who they lost to 7-6 in overtime. In addition, Bulgaria was the most penalized team of the 2019 tournament, with 30 minor penalties through four games.
"It's not a secret that women's ice hockey in Bulgaria is difficult to grow. Every season we aim at improving our skills. Our last medal was at the Worlds in Mexico in 2014," said player Vanesa Georgieva. "Our goal this year is to show some progress despite the difficulties we meet. Our mission for the next couple of years is to grow the women's family."
A key player to watch on Team Bulgaria is Veronika Metanova, a dual American-Bulgarian citizen who grew up in Illinois and played four seasons of NCAA Div III hockey with Concordia University. She made her debut with the Bulgarian national team last season, finishing the World Championships with seven goals (tied for second most in the tournament with South Africa's Dalene Rhode).
"There always will be a thrill when your family and friends watch you playing, so we will try to put out the best performance we can," said Georgieva. "It's a great opportunity to host the championships. We actively advertise the event and we hope that the Winter Palace will be full during the championships, and thus more kids would be interested in practicing ice hockey."
Lithuania
Lithuania will be making its IIHF Women's World Championship debut in Bulgaria after years of working to grow the sport in the country. The team's goal for its first international competition is simple: to not finish in last place.
"Women's hockey has only existed in Lithuania [since about 2014], and many girls started skating then," said head coach Bernd Haake, a German with extensive experience coaching Lithuania's men's national teams. "More young girls are coming now. We have two girls teams in Vilnius and Elektrenai now, and the very young ones are playing with the boys."
Sixteen year old German-born Klara Miuller is expected to be one of the team's stronger players. She led the Hockey Girls (a Lithuanian team playing in the Latvian women's league) in scoring last season in addition to playing with HC Klaipeda in the Latvian U17 boys league.
Emilie Simonsen will likely be the team's starting goaltender. Lithuania will be captained by Ramune Maleckiene, a coach, IIHF referee, and key figure in the Lithuanian hockey community.
The 2020 IIHF Women's World Championship Division III tournament starts on December 4, 2019, with South Africa playing Romania in the opening game, and wraps up on December 10. Statistics and game results can be found here.
---

Related Articles