There may be a 25 year age gap between Tg Farhana Azuma Tg Abdillah and Wen Min Low, but together they make up Malaysia's promising and talented goaltending duo.
The two goalies will once again be protecting Malaysia's net at the upcoming 2019 IIHF Women's Challenge Cup of Asia (CCOA), having also done so last season. Their age difference could perhaps be one of their biggest strengths, with each bringing a different experience and outlook to the team.
Tg Abdillah has been a mainstay of Malaysia's women's hockey program for several years, and has represented the country at each of the IIHF Women's CCOA events that Malaysia has participated in.
"I would say Azuma [Tg Abdillah] has been there for the Malaysian team from the very beginning. I don't remember a time when we didn't have her as a goalie," said national team player Eunice Boon.
Tg Abdillah, a former inline hockey player who took up ice hockey in 1998 after the opening of the country's Sunway Pyramid rink, gradually moved from forward to defence to goaltending. In 2003, she became one of Malaysia's first female goaltenders.
"I'm not sure what made me do it," said Tg Abdillah. While she eventually took some time off from the sport, she returned to ice hockey about five years ago. "When I came back I was asked if I could play in net since they needed another goaltender for an upcoming tournament in Singapore and I said yes. Again, I have no idea why I said yes, however, I have grown to love being a goaltender."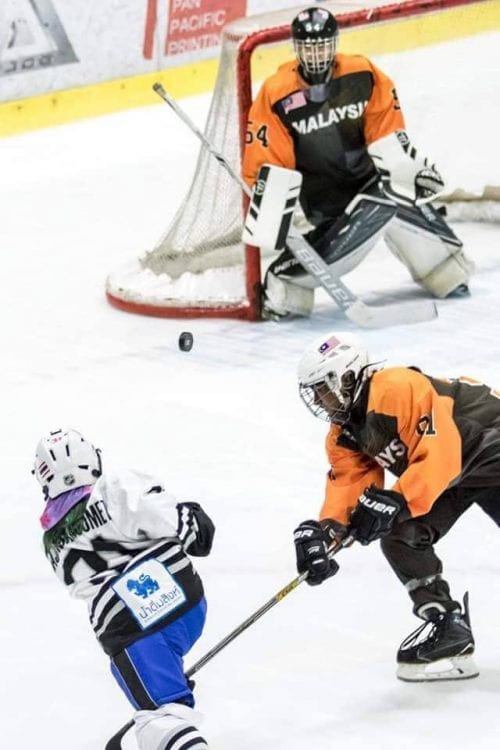 Malaysia faced some tough competition in the 2016 and 2017 CCOA events, but had a fantastic showing at the 2018 tournament, winning the gold medal in Division I to earn promotion to the Top Division this year. Tg Abdillah had a career-defining tournament, leading all goalies with a 931.0 save percentage and a 1.43 goals against average.
While Tg Abdillah has now become accustomed to competing on the international stage, the 2018 CCOA was Low's first introduction to a IIHF competition. Fifteen year old Low only played just under 12 minutes in a 5-0 win over India in the tournament, and while she has yet to achieve more of a starting role, she represents the future of hockey in Malaysia.
"Min brings hope to the women's team that this isn't a dying position, and that there are young Malaysian girls like her who still want to play goalie," said Boon. There are currently less than 10 female goalies in Malaysia, with only three being qualified to play for the national team based on their age and skill level.
Like Tg Abdillah, Low also came to ice hockey through inline hockey, and also started as a player before taking up goaltending. When her team was in need a goalie for a tournament four years ago, her coach brought out a set of equipment for the players to try out.
"When I tried on the gear and took shots for the first time, I found it natural to butterfly," said Low. "We weren't told what we had to do … I just did it anyways. I liked the position a lot better than I liked being a player, so I decided to be the team's goalie."
The relationship that has developed between Tg Abdillah, a mature and experienced goaltender, and Low, a younger goalie who is relatively new to the scene, is unique. Tg Abdillah doesn't see their relationship as being that of a mentor and mentee.
"It's more like we understand what we're going through as a goalie and we become each other's motivator," said Tg Abdillah. Other players on the national team, such as Boon, agree.
"[They] are more like sisters," said Boon. "I think Azuma [Tg Abdillah] watches out for Min [Low] a lot as she understands the performance pressure for goalies is very tough and difficult mentally."
However, Tg Abdillah still serves as a role model for Low, who definitely looks up to her goaltending counterpart and often reaches out to her when she needs advice and comfort.
"The relationship between Azuma and I is something I would consider very special," said Low. "We encourage and motivate each other mostly by cheering for one another, and it's awesome having another goalie to be able to talk to, something I've never had the privilege of doing anywhere else."
The 2019 CCOA could prove to be a challenge, with Malaysia competing in the Top Division against Chinese Taipei, Thailand, Singapore, and New Zealand's U18 team, teams they have previously struggled against in the CCOA.
However, with Tg Abdillah's experience, leadership, and fantastic 2018 season, Low's youthfulness and motivation to improve, and the duo's strong friendship, Malaysia looks good to go with their goaltending.
The 2019 Challenge Cup of Asia is taking place April 14 to 19 in Abu Dhabi, UAE. More information can be found at https://www.iihf.com/en/static/5456/asia
Related Articles