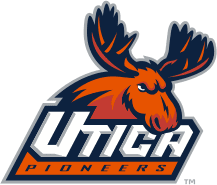 Website UCWomensHockey Utica Pioneers Women's Hockey
Utica College, a small comprehensive college in Upstate New York, is seeking a full time Assistant Women's Ice Hockey Coach to assist Head Coach with all facets of a varsity sports program including organizing and planning of all practices and game strategies, training and health education of student athletes, monitoring academic progress of student athletes and recruiting of athletes for the Program.

In deciding whether to apply for a position at Utica College, candidates are strongly encouraged to consider the UC mission and culture to help determine their potential success at http://www.utica.edu/instadvance/marketingcomm/about/. Our Mission and Values Statement includes a commitment to fostering diversity in background, perspective, and experience within an environment that is dedicated to the freedom of expression and the open sharing of ideas. At UC, diversity means that we are a community that represents a range of human experience and makes conscious choices to appreciate, respect, and learn from each other. Utica College actively seeks and welcomes applications from candidates with exceptional qualifications, particularly those with demonstrable commitments to a more inclusive society.

Primary responsibilities include:

Adheres to Utica College Athletic Department philosophy, including knowledge of NCAA rules and regulations. Provides and advises student athletes of obligations and requirements under said philosophy and NCAA rules and regulations; Plans and runs daily practices sessions and periodic individual training sessions to ensure players are learning team concepts and safety issues while participating in intercollegiate athletics; Monitors players' academic success, providing direction when necessary, including providing for or arranging necessary academic help services; May be required to teach physical education classes each semester as assigned by the Athletic Director; May be assigned out-of-season home game day event management; Oversees designated work study students to ensure assigned jobs are completed and timesheets are accurate; Manages equipment usage, orders and maintains uniforms, sticks, pucks etc. Scouts opponents, tape exchange, etc. Assists head coach and Athletic Director with game scheduling, transportation, and coordinates with Sports Information for team pictures, statistics and highlights. Contributes time and assistance to Booster Club, if appropriate; Recruits prospective student athletes giving them an opportunity to compete and to better themselves as athletes and individuals; Must maintain a clean driving record as defined by College insurance carrier guidelines. Motor vehicle record will be monitored regularly using NYS License Event Notification Service or License Monitor, Inc. for out of state licenses. Will be required to attend van training annually; May perform other related duties as assigned.
Qualifications:
Bachelor's degree required; 1-2 years coaching experience preferred; Must have knowledge of NCAA rules and regulations.
Application Information:
To apply, submit a cover letter, resume, and three professional references. All positions at Utica College support the College's mission and values in part by being active members of an inclusive environment.
All application materials must be submitted online at the following link: http://uc.peopleadmin.com/postings/2960
Active consideration of candidates will begin immediately and continue until the position is filled. References will be checked for candidates invited to campus.
Utica College is an affirmative action, equal opportunity employer. We encourage applications from under-represented groups as well as individuals who have experience with diverse populations.
About Utica College
Founded in 1946, Utica College is a private comprehensive institution distinguished for its integration of liberal and professional study. Our dedicated faculty and staff have built a tradition of excellence in teaching and learning with particular emphasis on providing individual attention to students. The College enrolls approximately 3,700 students – approximately 2,700 undergraduates and 1,000 graduate students. A city of approximately 60,000, Utica is located at the foothills of the Adirondack Mountains in the Mohawk Valley region of upstate New York. The area offers easy access to a broad variety of cultural attractions, including the historic Stanley Performing Arts Center and renowned Munson Williams Proctor Arts Institute, as well as four-season recreation. Background: Utica College supports 25 intercollegiate sports – baseball, men's and women's basketball, men's and women's cross country, field hockey, football, golf, men's and women's hockey, men's and women's lacrosse, men's and women's soccer, softball, men's and women's swimming and diving, men's and women's tennis, men's and women's indoor and outdoor track and field, women's volleyball, and women's wate
r polo. The College's athletics program has grown in number from 12 to the current number of 25 since 1998. In that time, the College has also constructed the multi-sport stadium Charles A. Gaetano Stadium, the Harold T. Clark Sr. Team Facility, the Pioneer Hockey Facility at the Utica Memorial Auditorium, and a track and field throwing facility. The College is a member of the Empire 8 conference and ECAC West Hockey League. Utica College is an affirmative action, equal opportunity employer. We encourage applications from under-represented groups as well as individuals who have experience with diverse populations.